Sargemur
Type
Region
Principal land
..
Names
Sargemur, Ash Dred
Population

unknown
Short description
Edit
Sargemur is a volcanic region , bound to the north and west by ragged mountains. To its center lies a large volcano.
Detailed description
Edit
First Age
Second Age
2511 The first orks settle agian in the northern regions of Sargemur.
2614 The arrival of Morgumer. Sargemur begins to strengthen, first attacks on caravans.
2745 The arrival of in Sargemur. The building of new fortresses. Large orc camps on the western side of the mountains.
2827 Drought in Sargemur
The land is a desolate, ashy highland plateau, with few settlements. Most of the country is covered with ash, with the only acceptable areas being the mountains, and a less hostile southern part, supplying the north with food.
The hostile climate practically turned the region into a barren desert. Some place have a precipitation of less than 180mm per year.
The only rivers flow in the south creating a salt lake, and the rest is desert.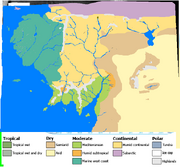 Flora and Fauna
Edit
There is not much in here...
Botanically, Sargemur is divided into 6 provinces:
Vegetationless (more than 40% of the land)
The leeward sides of the mountains- few vegetation
The windward sides of the mountains-more vegetation
Semi-arid climate- the sothern half of the country,except the river basins
Meadows and steppes-
The savanna at the foot of the volcano.
There were few who could live in this hostile region.
However the population has risen in the last few years to 460 000.
Items of note
Edit