Ravediar is a large region to the east of the Silver mountains. It is home to the Wood Elves , Dwarves of Nimrathran and Zirag Zigil, but also of the Northmen of Thalskvuld,...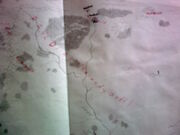 The land of Ravediar is bound to the west by the Silver mountains and extends further east. Most of it is a grassland. The major river is the Beleduin
Flora and Fauna
Edit
The forest of Greatwood is home to many endemitic plants.