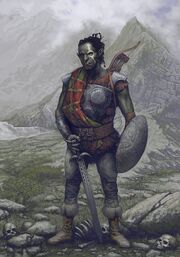 Orcs are a race of strong humanoids with black, brown or red, occasionally green skin . They are completelly different from the goblins.
Characteristics
Edit
Appearance
Edit
They are humanoid, slightly larger and stronger than Men.
Culture and society
Edit
The orcs are divided into many subraces, which are further divided into tribes and clans.
Languages
Edit
Breeds and tribes
Edit
Inspiration
Edit
The orcs of Alna were insspired by those from Warcraft, leaving the traditional orcs under the term Goblin (Ohyzd).